The intellectual challenge of college and the warm embrace of a serious boyfriend have given Maya the wings she needs to break away from her bookish and shy reserve. Her ideal life comes crashing down when she and her boyfriend are accosted by a stranger. A stranger with glowing hands.
Maya's boyfriend is killed. She is kidnapped. Changed.
A rescue comes, but not soon enough.
Maya's senses sharpen, her body becomes strong and agile, and she develops the ability to visually see the emotions of those around her as colorful auras…beautiful auras…tempting auras.
And then there's the song…
Now, Maya must struggle to control the murderous appetite that fuels her new abilities, accept her altered condition and learn to trust two vigilante half-brothers she never knew she had. As she joins the battle against a secret network of powerful and destructive beings that call themselves "Angels", Maya vows to find and destroy the one who changed her.
On the bright side, at least Maya's oldest half-brother has stopped trying to kill her.
REVIEW:
This book was really different that other books, in a good way. You are drawn into the characters from the beginning. I was always wanting to know what happens next and stayed up to finish it one night. There was action and drama. I really liked the new creature in the book. They call themselves angels but they are not and the feed on energy from human. And the do it through their hands that have little mouths that open! So creative and great to read about! The main girl, Maya, is one of these creatures and she fights against feeding on humans. She has two half-brothers that kill the 'angels', now she helps.
One thing that I would have like to see was romance. At first I thought there was going to be a love triangle but no the boys are her brothers. Oh well, maybe there will be some in the next book.
J Bennett is a professional copywriter, as well as a novelist. She lives and writes in Southern California.
Girl With Broken Wings
Falling (Book One)
Coping (Novella, 1.5)
Landing
(Book Two)
, To Be Released Jan 2013
The Vampire's Housekeeper Chronicles
#1
Employment Interview With A Vampire
(Short Story)
#2 The Vampire Hunter Comes to Call
(Short Story)
#3 Duel With The Werefrog (Short Story)
·
Amazon Kindle copy Nook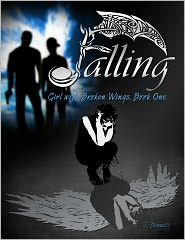 Name
I think it starts with a J. Next question.
Are you related to Tony Bennett?
Not as far I know. What kind of lame question is that?
Favorite color
I don't do favorites, but I drive a blue car, write on a blue laptop and once partially dyed my hair blue. So, blue then.
If you could be any animal what would it be?
Dragon
Location:
Inside my head, which is currently living in California
How did you get into writing?
The real reason is totally lame, so here's a better (though slightly untrue ) version:
One day I was taking a leisurely stroll through a dense and desolate forest (you know, gotta burn those calories), when I heard a cry for help. Being a super brave person, I ran toward the cry and discovered an old woman being attacked by a mountain lion. With my brute strength (I CrossFit), I wrestled the mountain lion into submission. It ran away with its tail between its legs.
It was clear that the old woman's wounds were mortal. I stayed with her and did my best to ease her pain (this involved selflessly tearing my shirt into strips and wrapping them around her many wounds. It was a very large shirt and was specifically made for easy conversion into bandages). As she lay dying, the woman revealed herself to be a mystical gypsy.
(In case you're wondering, gypsy spells don't work on mountain lions. Just one of those quirks of the universe.)
"I have seen into your heart and know its truest desire," the gypsy whispered, still completely coherent despite the massive loss of blood (magic). "You want to be a famous author, whose books top the best seller list and delight the hearts of millions."
Caught up in this magical, yet very tragic moment, I responded, "and a few movie deals wouldn't hurt either."
The old woman continued, "with the last of my strength, I could grant this wish…but seeing as you didn't actually save my life, I'm only going to make you a mildly successful ebook author."
"But what about the shirt bandages?" I whined.
The woman waved her arm, and I felt a shiver run through my body. The old gypsy died then and there in my arms, shirt bandages be damned. Suddenly a strange compulsion overtook me. I knew that I must go and write. Then I must have my sister lambast my writing. Then I must edit and beg a friend to build a website. And then, after all these great trials and tribulations, I must self publish.
Favorite character
Sir Hopsalot
A cool thing about yourself
I name all the major inanimate objects in my life. My computer's name is Torgo based off a character in one of the worst movies ever made Manos: Hands of Fate. (Thank you for existing MST3K)
No, a
cool
thing about yourself
Oh, okay. I can do back flips.
Week One of Blog Tour
J Bennett is a copywriter and copyeditor living in California.
Falling
is J Bennett's debut novel and book one in the
Girl With Broken Wings
series. J Bennett has also written a follow-up novella,
Coping,
and will be releasing book two in the series,
Landing,
on Jan. 10
th
.
To celebrate
Landing's
release,
Falling will be available for FREE on Amazon from Jan 10 – 14

th

.
In addition, J Bennett will be hosting a book launch event for
Landing
on Facebook on Jan 10
th
, which will include several fun surprises and giveaways, including a $50 Amazon gift card. Visit
J Bennett's Facebook page
to RSVP for the event. All readers are welcomed. Also, if you like your heroes a little flawed, your humor a little dark, and a good helping of action and Chuck Norris jokes, set yourself a reminder to download
Falling
for free Jan 10 – 14
th
.